Biography
Drew Stone is an American film director, producer, editor and musician. His works include music videos, commercials, documentary films and television. He founded the New York City-based film production company Stone Films NYC and played an active role in the early stages of the American musical movement known as hardcore punk. He was the co-founder and lead singer of the hardcore bands The Mighty C.O.'s of Boston, Massachusetts and The High & The Mighty of New York. Stone is also known for his career as the front man for New York City's Antidote since 1984.
Early life
A native New Yorker, Stone was born in Queens and raised in the Bronx. He grew up in and around the New York City film business and studied acting at Emerson College in Boston. His father, Arny Stone, was a filmmaker who won an Academy Award for his film, The Critic, starring Mel Brooks. Evan B. Stone, His brother is also a film director, editor and cinematographer, whose credits include CMT's Guntucky, Syfy's Destination Truth, CBS's The Amazing Race, MTV True Life, and the Emmy Award winning Current TV.
Film Career
After working for years as a crew member on film sets in a variety of roles in 1992 Stone formed New York City-based film Production Company, Stone Films NYC. He produced numerous music videos including Run-DMC, Onyx, Type O Negative, Insane Clown Posse, King's X, and Biohazard. He later went on to direct videos for Agnostic Front, Madball, Sub-Zero, and Garth "Culti" Vader. Joining forces with his brother Evan as "The Stone Brothers" he directed music videos for various artists including Vanilla Ice, and Channel Zero. He is a four-time X-Tremmy award winner with his Urban Street-Bike Warriors series of extreme sports films and director of the MTV True Life episode "I Live To Ride," which exposed the new sport of street-bike freestyle to millions worldwide. In 2006 he created the Urban Street-Bike Warriors: Black Sheep Squadron Tour which made landmark stops in France, Poland, and Cuba.
Musical Career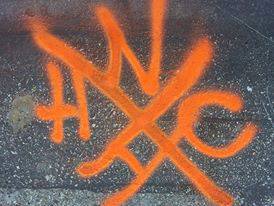 In 1981 while attending Emerson College, Stone became heavily involved in the local Boston Hardcore music scene and became the lead singer of The Mighty C.O.'s. Upon returning to New York City in 1983 he formed The High & The Mighty and later joined Antidote. Antidote reformed in 2008 enjoying a resurgence in popularity due to a enthusiastic new generation discovering the "First wave" of American Hardcore. His contributions to the hardcore punk scene were documented in the book American Hardcore: A Tribal History by Steven Blush.
Discography
1984 – The High & the Mighty "Crunch On" Demo (Vocals)
1989 – Antidote "Return 2 Burn" (Vocals) Metropolis Records
1990 – Antidote "Viva Los Pendejos" (Vocals) Music For Nations
1996 – Antidote / The High & The Mighty  "The A7 & Beyond" (Vocals) Grand Theft Audio
1999 – Nucleus "F.T.W." (Guitar, Vocals) Century Media
2012 – Antidote "No Peace in our Time" (Vocals) Bridge Nine Records
2014 – The High & The Mighty "Crunch On"  Radio Raheem Records
xxx ALL AGES xxx The Boston Hardcore Film
In 2009 Stone teamed with Gallery East owner Duane Lucia (Executive Producer) and Katie "The Kleening Lady" Goldman (Producer) and began production on xxx ALL AGES xxx: The Boston Hardcore Film. He directed and edited the documentary on the influential early Boston Hardcore scene which focuses on the aspect of the community and the culture. The film debuted at the International Film Festival Boston 2012 and was released on DVD in June of that year.